WELCOME TO SHAREIT
COLLABORATION & TECHNOLOGY SPECIALISTS
Easy and quick access to information is critical today if you want to just keep up let alone be ahead of the game.
ShareIt Consulting can help you keep track of your data, your files and knowledge so that it can be shared easily around your organisation
RECENT PROJECTS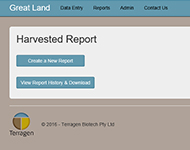 Great Land – Terragen
We helped Terragen by creating a system to allow them to enter in data readings from treated paddocks. This can then be charted and and a PDF report produced.
The solution is scale-able and time saving. More importantly data can be entered in on a tablet while still at the paddock and the data is immediately available for reporting in the office.